Summary
Ranks in R2DA are not only a badge of honour for those who invested time but are also required to unlock better weapons. On this page, you can find information regarding their names and icons.
Below is a graph showing how the experience curve works; the green line is the new curve and the blue was the old.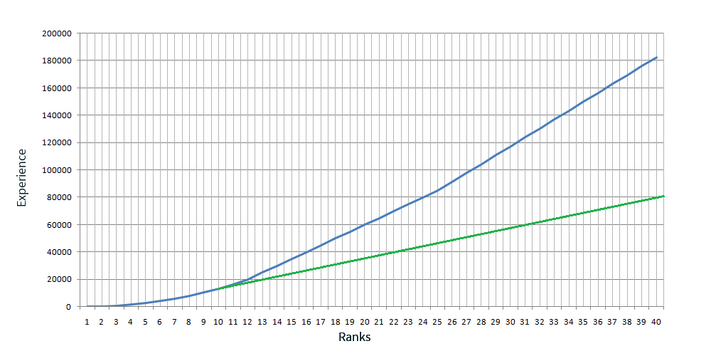 Rank Emblems
Recruit

Rank 0
Private

Rank 1
Rank 2
Rank 3
Rank 4
Lance Corporal

Rank 5
Rank 6
Rank 7
Rank 8
Corporal

Rank 9
Rank 10
Rank 11
Rank 12
Sergeant

Rank 13
Rank 14
Rank 15
Rank 16
Staff Sergeant

Rank 17
Rank 18
Rank 19
Rank 20
Master Sergeant

Rank 21
Rank 22
Rank 23
Rank 24
Trivia
Every time you Rank up during playing the game, your HP will automatically refill to max.
15 new Ranks, 25 through 40, were added in v0.8.1.

In v0.8.2, Rank 40 was removed, and the maximum is now 39.
In v0.8.3, the Emblems for the remaining 14 were changed into what you see today.
In v1.0.2, Ranks 40 to 60, as well as a visual change for Ranks 25 to 29, were added.

In v0.9.3, PlaceRebuilder lowered the experience needed for 15 through 19 for a gentler experience curve.

In v1.0.2, the curve was made even gentler to accomodate for all the new ranks.

Pre-Demo, Emblems may have looked different visually, but the system was still exactly the same as it is today.
Prior to v.1.0.2, OsvaldoL was the first player to ever achieve Rank 39.
Ad blocker interference detected!
Wikia is a free-to-use site that makes money from advertising. We have a modified experience for viewers using ad blockers

Wikia is not accessible if you've made further modifications. Remove the custom ad blocker rule(s) and the page will load as expected.