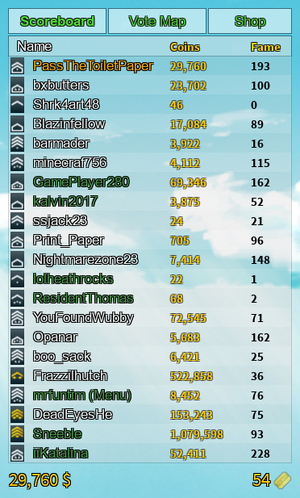 Summary
The Leaderboard is accessed with the Tab key, and gives you an overview of everyone in the server. Along the top, there are two other tabs besides Scoreboard. Vote Map, which you can use to choose the next game, and Shop, which you can use to get a small edge during the round.
Uses
Scoreboard
See if a player is a Moderator, Developer or Administrator, unless hidden.
See how many Tickets you have.
See what party a player is in by hovering over their username.
See a player's current status.

They are a survivor if they have a white name.
They are a zombie if they have a green name.
They are a spectator if they have an orange name.
They are in the menu if they have "(Menu)" after their name.
They are on the Red team (for TDM) if they have a red name.
They are on the Blue team (for TDM) if they have a blue name.

Mute other players.

This can be done by clicking on a player's username, then clicking the green mute button to the left of it.
Vote Map
Shop
Trivia
Your name is always at the top of the Leaderboard.
Originally, you didn't need to navigate to the In-Game Shop from the Leaderboard as all the things you could buy was in the bottom right corner of your screen.
The Leaderboard used to allow you to see how good players' pings were back in DEMO. Later, this was removed.
Whenever you mute someone, their chat bubble will still be visible. Besides that, their name won't show up on the Chat GUI, the main purpose of the Mute function.
There is a minor bug that would cause the Leaderboard to not appear at all if you happened to join the round as a spectator after the round has already started.
Cash is shown as Coins on the Leaderboard due to Place not updating it.
All players spawning into the server will have a red name plus (Menu) after their name.

For Example:

PlaceRebuilder (Menu)
Ad blocker interference detected!
Wikia is a free-to-use site that makes money from advertising. We have a modified experience for viewers using ad blockers

Wikia is not accessible if you've made further modifications. Remove the custom ad blocker rule(s) and the page will load as expected.