Summary
Double EXP Fridays was a feature in the previous R2D, and have now been added to R2DA.
It's a feature that turns on every Friday and grants Double EXP to everyone that plays R2DA on Friday.
It is a great opportunity to level up fast, especially because the weekend starts on that day.
Tips
You can continue using the Double EXP acquired during Friday for 1 hour after the day has passed.
Double EXP bought from the store lasts for only one hour, but on Double EXP Fridays, Double EXP's duration refreshes every round or whenever you enter a server.

The time runs down only if you are in R2DA, it won't expire while you are gone.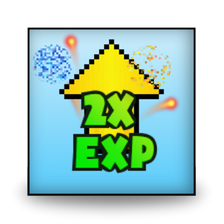 Trivia
Even if it says that there is 1 hour remaining on your Double EXP, the game will refill it in between rounds.
Sometimes, the R2DA game icon changes every Friday with a caption "DOUBLE EXPERIENCE".